Leading global information and communications technology (ICT) solutions provider, Huawei is confident about the future, and the main goal in 5G era is to increase the adoption of 5G in various industries, company's founder and Chief Executive Officer (CEO) Ren Zhengfei remarked recently.
"Our previous generations of communications networks aimed to connect numerous homes and several billion people. But in the 5G era, connecting businesses is the main goal" Huawei CEO Ren Zhengfei said adding that the company's main goal is to increase the adoption of electronic, software, and computing systems in different industries.
He made these comments appearing in a recent interview with reporters after taking part at the opening ceremony of the Intelligent Mining Innovation Lab in Taiyuan, Shanxi Province, China. At the ceremony Ren responded to a series questions raised by reporters on Huawei's future vision and latest innovations in the 5G era.
"There are many industries that we are not too familiar with, like airports, ports, coal mining, iron and steel production, automotive manufacturing, and aircraft manufacturing. That's why we built joint labs to learn more about the needs of these industries" Ren added.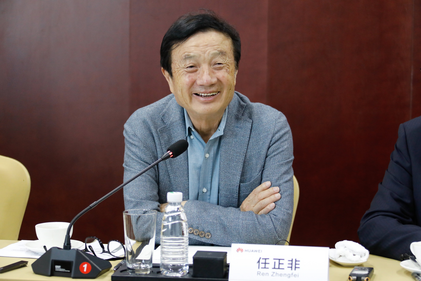 "If you have time, you should visit the Port of Ningbo, Shenzhen Airport, Dubai International Airport, and the automobile factories in Germany that use our 5G services to see for yourself how we are helping them advance. We are still winning trust from a large number of customers," he pointed out.
According to him the 5G applications for different industries are different, but most of the technologies are the same. And powered by insights into how coal mines work, Ren pointed out that Huawei's electronic and software systems will be able to provide great applications and services for mines. As Ren explained, when it comes to 5G applications, most ICT companies didn't think of mining as a field where they can make market breakthroughs, but Huawei has done. China has around 5,300 coal mines and 2,700 ore mines.
Huawei hopes to serve these 8,000+ mines well through this new ICT solutions and hopes to expand services to mines outside China.
"If we can provide excellent services for coal mines, we will have created an outstanding service module. Our role is to help the coal industry reduce staffing and increase unmanned operations, to make their work safer and more efficient" Ren explained.
Huawei will do this by helping reduce staffing in fully mechanized and intelligent mining scenarios by 60% and the number of workers going down to mining pits each shift by 10% to 20%.
The Intelligent Mining Innovation Lab in Shanxi will provide better services for mines with 5G. The lab is staffed by 220 experts, and 53 of those are from Huawei. Most of these Huawei experts specialize in electronics technology. There are also more than 150 coal mining experts from Shanxi who have an extensive knowledge of the industry.
Ren went onto explain that Huawei has also kicked-off a program called Nanniwan. that is basically related to the concept of self-reliance in production. This program is intended to Huawei make breakthroughs in coal mining, iron and steel, and music, as well as in product categories such as TVs, computers, and tablets.
He further said that Huawei had helped build the best 5G networks in many cities around the world, including Berlin, Munich, Madrid, Zurich, Geneva, Amsterdam, Vienna, Barcelona, Seoul, Bangkok, Hong Kong, Riyad and that the company's networks in Europe top global network performance tests.
Huawei has more than 100 research centers and joint labs around the world, most of which specialize in areas like mathematics, physics, chemistry, biology, and aesthetics. A small number of them are applied research labs that Huawei had built with company's customers, such as joint labs with telcos where they study the needs of telecom customers. According to Ren Huawei is now going beyond telecoms with this joint lab for coal mining and other joint labs for transportation applications for areas like airports and seaports and these labs are applied research labs.
He further revealed that Huawei's sales revenue and profits have achieved positive growth this year. "I have greater confidence in Huawei's survival because we have come up with more solutions and means to overcome difficulties," Ren said. Huawei's sales revenue and profits in 2020 were higher than last year's.