Commercial Leasing & Finance PLC (CLC), the fully fledged financial services provider has pioneered a COVID safety donation campaign for three-wheeler operators throughout the country. This donation is considered as an industry-first initiative.
CLC has come forward to distribute separators and safety kits for its three-wheeler lessees via island-wide CLC customer points. Rolled out with the participation of CLC's 68 branches, and supported by the relevant health authorities and police officers in the respective regions, the donation helps to prevent COVID 19 infections between the three wheeler passengers and drivers.
The separators distributed were exclusively designed for this campaign using a high quality durable material which is washable. The separators act as a barrier between the passenger and the driver by isolating the two parties and preventing any infections during a ride.
Commenting on this industry first initiative, Prasad Perera, Manager-Marketing Communications at CLC stated, "Three wheeler operators faced several challenges this year, and many were struggling to make ends meet. They experienced a huge drop in hires, and also faced the risk of contracting the COVID 19 virus when in operation. We wanted to safeguard both the drivers and their passengers in an industry first initiative that not only protected both parties, but also ensured that the drivers continued with their profession without any hindrance. This initiative is a collective effort of our 68 customer points and other government authorities. As a socially responsible corporate, we are keen to extend our support for COVID 19 safety initiatives and we look forward to expand this to other social segments as well."
During the first wave of COVID 19, CLC distributed more than 8,000 separators to three-wheeler operators across the country. The separators, whilst being helpful, needed to be accompanied by additional safety measures. Realizing this need, CLC partnered with the Government Medical Officers' Association (GMOA) and further expanded the level of assistance by distributing a COVID 19 safety kit which included a mask, sanitizer and a booklet to note details of passengers along with each separator. The separators and safety kits were then distributed at an official event held at the National Institute of Medical Sciences, Katukurunda, adhering to GMOA guidance and COVID 19 health guidelines. During the second wave of the COVID 19 pandemic in the country, CLC distributed more than 2,000 separators and safety kits. The company wishes to continue with its COVID 19 safety initiatives across the island.
CLC takes pride in pioneering and engaging in social services of this nature with the aid of its CSR arm. The company continues to stay true to its customer-centric service approach and empowers them with unique and innovative solutions. With 68 customer touch points across the country, CLC has become closer to its customers as a trusted and a dependable brand, while playing a vital role in financial empowerment of the country.
Photo Captions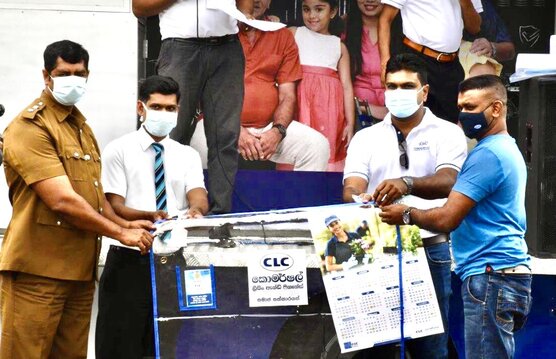 From left to right: Kalutara District Administrative Public Health Inspector, R.J. Sinhabahu, Kalutara District Medical Health Officer, Dr. Thilanga Hemashri, CLC Branch Manager- Kalutara, Asela Silva handing over a separator to a customer
Kalutara District Administrative Public Health Inspector, R.J. Sinhabahu and CLC team pasting the awareness stickers after installing a separator