Lack of legal power for PHIs, a shortage of safety equipment, gruelling work hours and dealing with stress and anxiety; how are our first responders are putting their lives on hold for Sri Lanka
By Piyumi Fonseka
As health care workers, from doctors to attendants and public health inspectors (PHIs) are working around the clock to manage and contain the Covid-19 pandemic, they have been dealing with significant stress due to concerns over the lack of basic safety equipment, risk of contracting or passing the infection on to others and increased working hours. Daily Mirror Insight spoke to a few on-the scene-nurses, doctors and PHIs, who disclosed their own fears of protecting themselves over while caring for the ill.
"No masks, no sanitizers supplied for PHIs, nurses"
Except in major hospitals, access to personal protective equipment (PPE) and N95 grade masks have been limited in several parts of the country. In addition to the hospital staff, PHIs who pay visits to gather information regarding recent returnees to Sri Lanka. They have been key in detecting suspected Covid-19 patients but unfortunately have not been provided with protective masks or even sanitizers.
Confronted by difficult situations that pit their desire to remain safe against their duty to help patients, Upul Rohana, President of Public Health Inspectors' Union of Sri Lanka said the situation has left many workers stressed.
"Health care workers especially PHIs are the first responders of Covid-19. Dealing with patients, whether they are diagnosed with or are suspected of COVID-19, we face an increased risk for exposure to the virus. Of course, one might say we can minimize the risk by following infection control and prevention recommendations. But, what happens, when we don't have enough safety equipment and what happens when despite our best efforts, we become exposed to a coronavirus patient?" Rohana questioned.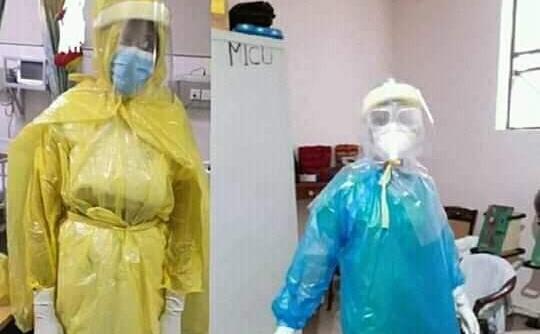 Furthermore, transport is also another major problem PHIs are facing at the moment. As claimed by their trade unions, PHIs in almost 75% of the districts have no proper transport method provided by the government. Despite there being government vehicles given to the MOHs in 5% of districts, PHI organizations claim that the vehicles have not been assigned to them even during this crisis situation.
Nurses Organizations are also criticizing the government for its inability to provide them with safety kits or even masks which have made them wear improvised polythene waste bags to protect from infection. To this day, more than 100 nursing staff have been sent for quarantine after being exposed to the virus from patients. On Friday, the entire antenatal staff at Nagoda Hospital, Kalutara were sent for quarantine after a pregnant woman from Beruwala was admitted for the delivery of her child. She was later found positive for Covid-19. Following is an extract from a letter sent by Government Nursing Officers' Association to Health Services Director General on Friday.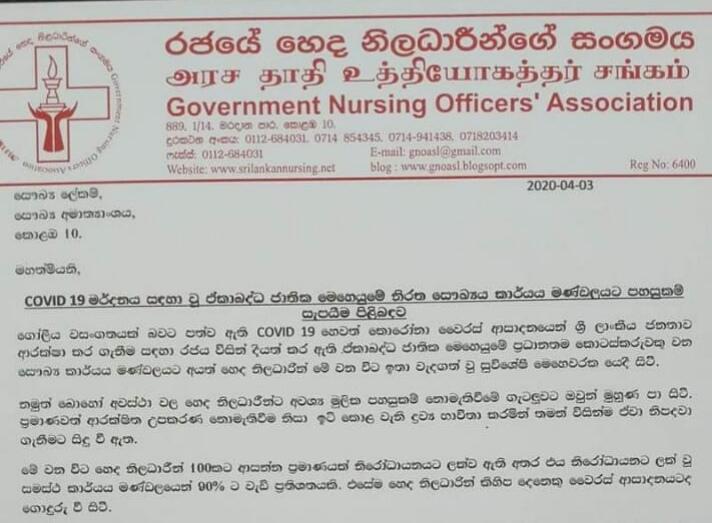 "What news says is otherwise"
"There is a sense of fear among many of the frontline health care workers," said a nurse, mother of two, working at the Infectious Diseases Hospital (IDH), who wished not to be identified.
She said they do not appreciate representatives of the health system and higher officials appointed to handle Covid-19 fight saying otherwise on the news. "We do not have enough PPE. The public needs to know that this is serious, that they need to stay home to flatten the curve. How many more of my friends have to get exposed to the virus and how many more have to die, for the public to take this seriously?," she asked.
She said she is more worried about passing the virus on to others, especially a vulnerable member of her immediate family. Therefore, she said she had to make the difficult decision to physically distance herself from members of her household, her husband and two kids. "I sent my parents in law to a relative's house because they are in a very vulnerable situation.It is very difficult to limit the time spent in the same environment as my loved ones," she added.
Speaking on the concerns of lack of safety equipment, she said there have been instances when N95 masks were not available at her hospital, leaving them no choice but to go ahead wearing a surgical mask that does not provide the appropriate level of protection against infection.
"PHIs have no legal power and it can be challenged"
The duties of Public Health Inspectors (PHI)s range from visiting houses to identify suspected Covid-19 cases till the cremation of bodies of those who succumb to Covid-19. Their duties however are not regulated by the Quarantine and Prevention of Diseases Ordinance. Currently, action taken by PHIs with regard to the pandemic are only formulated in an order sent by Health Services Director General on the instructions of the Minister of Health.
Due to lack of legal provisions, PHIs are concerned over the possibility of the Covid-19 quarantine process being challenged in court by patients or their relatives. PHI trade unions express their concern over workers being challenged with Fundamental Rights Petitions specially when it comes to the order pertaining to the cremation of bodies of Covid-19 victims.
PHIs Union President Upul Rohana said they often observe individuals who have been asked to self-quarantine doing the opposite and acting in a manner posing a great threat to others. However, he said they have no legal power to take action against such errant individuals. In a letter addressed to Health Services Director General, PHI unions have requested to vest them with appropriate legal provisions to perform their duties at the time of Covid-19.
"Understand the gravity of our commitment"
Meanwhile, Consultant Physician Dr. Upul Dissanayake stated that the mindsets of health care workers across the country are now similar to soldiers who are deployed in battle field.
"Health care workers are at a heightened risk of psychological distress and other mental health problems, due to the overwhelming workload. The situation in the country with reported Covid-19 cases so far is manageable. The seriousness of this particular pandemic is that we cannot predict how things will turn out. If our people can do as the government says and if new cases are controlled, we surely have no major risk. The hospitals will run out of personal protective equipment and other safety equipment in two weeks if we fail to minimize new cases," he cautioned.
He further said that patients hiding their illnesses which causes an eminent threat to hospital staffers will create a new set of problems when wards have to be closed for quarantine purposes.
Dr. Dissanayake stressed that the public needs to know what kind of a commitment is undertaken by health care workers in order to save patients. A number of health care workers had to look for new places to live as they were asked to vacate from their rented houses since the Covid-19 cases started to increase. The government then provided accommodation for them.
There are more than 150, 000 health care workers in the country right now. The protection of health staff is as crucial as ever. With all that the hospital staff must do to care for the patients, they have little time to think about themselves, said Samantha Koralearachchi, President of All Ceylon Health Service Union (ACHSU). "Adding to the shortage of safety equipment for low grade health care workers, there is a global concern about the quality of safety kits distributed to us," Koralearachchi said if today the public can help them to fight the pandemic safely, so they can continue their work taking care of all patients; those affected by COVID-19 and all other patients who need treatment.
Source: Daily Mirror