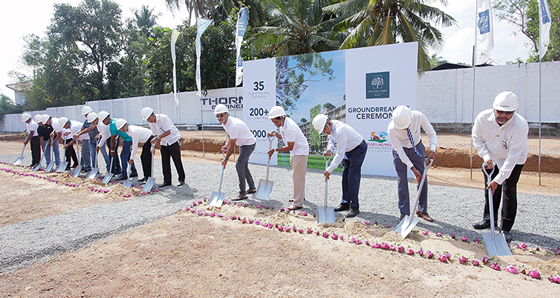 • Gated Development consisting of 350+ housing units with 40+ Amenities.
• Over 50% sold in a short span of time. (Over 190 units sold from 356 units)
• Ja- Ela is "Central to Everything".
• Live Modernity in Nature…
• Rs 19.9Mn upwards for a 3 Bedroomed House
KelseyHomes – Sri Lanka's pioneering real estate developer hosted the groundbreaking ceremony of its latest project CENTRAL PARK JA-ELA on the 6th of February 2021, following the resounding success of its first and second phases.
CENTRAL PARK JA-ELA is a gated development consisting of 350+ housing units with 40+ amenities. Housing units are designed by the renowned architect Murad Ismail of MICD Associates while Deepal Wickramasinghe Associates (Pvt) Ltd are the Structural Engineers for the project. The property is spread across 15 acres of lush land in Ja-Ela and is located in one of the most central locations in the country.
The first and second phases of the project witnessed immense success, selling over 50% of its housing and apartment units within just a short span of time. All 70 apartments in the first phase were sold out within 30 days from the launch date – an incredible feat especially amidst the COVID-19 pandemic. Further the second phase was launched in September 2020 and to date the project has sold over 190 units from a total of 356 units. The significant demand from customers despite the challenging economic climate was a true testament to the confidence in the company and its leading position in the Sri Lankan real estate market.
Commenting on the progress of the project and its success, Lalinda Kalubowila – CEO of Kelsey Developments PLC stated: "The success of the first and second phases clearly demonstrated the magnitude of trust and confidence that clients have in Kelsey Homes and we're even more determined to continue raising the bar in creating high quality, beautifully-designed
homes and apartments. We're confident that the demand for CENTRAL PARK JA-ELA will be unprecedented; and we're excited to enrich more lives by redefining luxury."
CENTRAL PARK JA-ELA offers an array of unparalleled services and modern conveniences required for a comfortable, hassle-free life within the premises. These include 24-hour security, a mini market, café, bookshop, ATM facility, bill paying facility, salon, medical centre, daycare centre, laundry service, driver's and maid's quarters, auto-charging station and washing bay. For the health-conscious individual, it offers an outdoor gymnasium, swimming pool, fully equipped indoor gymnasium, jogging track, basketball court, yoga center and a wellness center.
Additionally, the roof terrace party area, outdoor BBQ area, open function hall facing the pool, open pavilion facing the pool, covered function hall, and the club house are ideal spaces to entertain family and friends. Children can have endless fun at the kids' indoor play area, the kiddies' pool, and the outdoor play zone. All this in one of the most central locations in the country – Ja-Ela, which is in close proximity to leading schools, hospitals, banks and supermarkets, and offering convenient access to the Colombo-Katunayake Expressway (E03), 20 minutes to Katunayake and
30 minutes to the upcoming 'Port City' via the Port Access Elevated Highway in 2022. Further, CENTRAL PARK JA-ELA is located only 500m from the Colombo-Negombo main road and embodies the perfect balance of modernity in a natural environment.
In addition to the convenience of its centrality, this exclusive gated development offers residents a close connection to nature with its sprawling garden spaces and open areas. "Kelsey Homes is all about creating extraordinary living communities in Sri Lanka, and CENTRAL PARK JA-ELA is an extension of this vision. Offering modernity and centrality amidst nature, we are very pleased with the astounding success which the project has achieved so early on," concludes Eardley Perera, Chairman of Kelsey Developments PLC.
To find out more about CENTRAL PARK JA-ELA, visit www.kelsey.lk/central-park/ or call 0770773773.
Photo Captions:
Image 1:
"The distinguished participants of the groundbreaking ceremony of Central Park Ja-Ela including, Mr. Chandana de Silva – Chairman, Janashakthi GroupMr. Ramesh Schaffter – Managing Director / Group Chief Executive Officer, Janashakthi Group Mr. Eardley Perera – Chairman, Kelsey Developments PLC Mr. Dinesh Schaffter – Director, Kelsey Developments PLC Mr. Lalinda Kalubowila – Chief Executive Officer, Kelsey Developments PLC Mr. Dilshan Wirasekara – Chief Executive Officer, First Capital Holdings PLC"
Image 2:
"Kelsey Homes hosts groundbreaking ceremony post tremendous success of first and second phases of CENTRAL PARK JA-ELA