Smartwatches have become more commonplace with the expansion of wearable technology. High compatibility, usability, small form factor and smart features such as sleep, heart rate, blood pressure monitoring in smartwatches have attracted thousands of health conscious people, giving them a whole new level of control in terms of health and wellbeing. The manufacturers of Smartwatches not only focus on high-end features, but also ensure to introduce stylish watch pieces on par with traditional watches.
One such Smartwatch is Huawei Watch GT2 Pro, a professional looking masterpiece from the leading technology solutions provider. Huawei Watch GT2 Pro is a elegant and professional Smartwatch launched by Huawei, who revolutionized the wearable technology. As a top end smartwatch, Watch GT2 Pro has significant features to offer such as the stylish design, AMOLED Touch screen, more than 100 customised workouts, Golf driving mode, two-week battery life and more.
When it comes to buying a watch, one noticeable aspect to consider is its design. Huawei Watch GT2 Pro easily achieves that with the titanium frame, sapphire watch dial and glossy ceramic back, giving it a timeless beauty and ultra-professional look. The high quality materials used also ensure that the smartwatch is scratch free and water resistant. This lightweight smartwatch comes with a 1.39-inches AMOLED touch screen that enables the user to view comprehensive statistics and data. The watch face offers over 200 designs, so that those designs can always match the mood of the user.
In terms of the performance, Huawei Watch GT2 Pro comes with a host of useful features such as 100+ workouts including climbing, outdoor running, rowing, surfing, tennis, etc. It packs more 10 running courses with voice guidance to support the user with every move he/she takes. Huawei Watch GT2 Pro becomes the new golf companion with its dedicated golf-driving mode that enables the user to train with professional guidance. The golf-driving mode is capable of analysing the swing posture and it provides data references for the user to improve swing speed and frequency.
For more health conscious users, Huawei Watch GT2 Pro is equipped with AI algorithms to provide accurate details on metrics such as Blood Oxygen saturation (SpO2) or heart rate 24 hours. With Huawei TruSleep technology, the Huawei watch GT2 Pro can scientifically track and diagnose common types of sleep issues while providing suggestions for a sound sleep. Its stress monitoring feature backed by Huawei TruRelax technology is ideal for a user with heavy workload to manage stress as it provides suggestions such as breath training to release stress levels. Its TruSeen 4.0+ technology monitors the heart rate accurately and provides intelligent reminders if the heart rate goes above or below normal levels.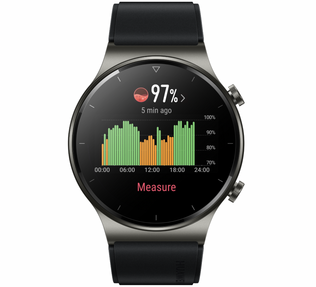 Watch GT 2 Pro comes with more advanced features such as the Route Back feature that records the travel route and uses GPS for accurate position marking. This feature enables the user to find the way back during a signal drop as it records the route for offline usage. Wearing the Watch GT2 Pro, the user will be informed of sudden weather changes with its built-in altitude barometer that detects air pressure change in real time. This feature helps in preparing for trips and outdoor adventures. The user can store up to 500 songs on Watch GT2 Pro and continue to listen to favourite music during workouts without the smartphone. Most importantly, the user can receive, reject, mute calls, and receive message notifications, reminders, alarms when the smartwatch is connected with the smartphone via Bluetooth. The user can even pair the ear buds with the smartwatch to directly listen to music. The remote shutter option of Watch GT2 Pro enables the user to capture photos by placing the smartphone in a suitable place.
Huawei Watch GT2 Pro ensures an efficient life with wireless and fast charging capabilities adding to its two-week long battery life. With just a 5-minute wireless quick charge, the user can go on using the smartwatch for 10 hours. It also supports reverse charging from the smartphone, so that the user can charge the smartwatch easily during travelling.
While Huawei Watch GT2 Pro is compatible with all other smart devices, it can be connected with Huawei's leading health monitoring app: Huawei Health to unlock more health and fitness capabilities. Huawei Health app, downloadable via Huawei AppGallery is a must-have for wearable users. The app brings out the best in Huawei Watch GT2 Pro, making way for improved tracking and monitoring capabilities. The Health app keeps track of workouts and exercises, manages the wearable devices, provides detailed and graphical explanations in an easy to use interface. To connect the Huawei Watch GT2 Pro with Huawei Health app, the user needs to upgrade the app to the latest version, open the app and touch "Devices". Then click on the device icon to pair with the Health app, which opens the user to a convenient user interface that allows taking control of advanced tracking details from just few clicks of the smartphone.
Huawei Watch GT2 Pro is available to purchase for Rs. 57,999/- from island-wide Huawei experience centers, Singer showrooms, authorized Huawei resellers and can be ordered online via Daraz.lk and Singer.lk.